Women's History Month - Katherine Johnson
Today's feature for women's history month is Katherine Johnson -the woman known for her accurate trajectory analysis for multiple missions, including the first American in space and the first on the moon.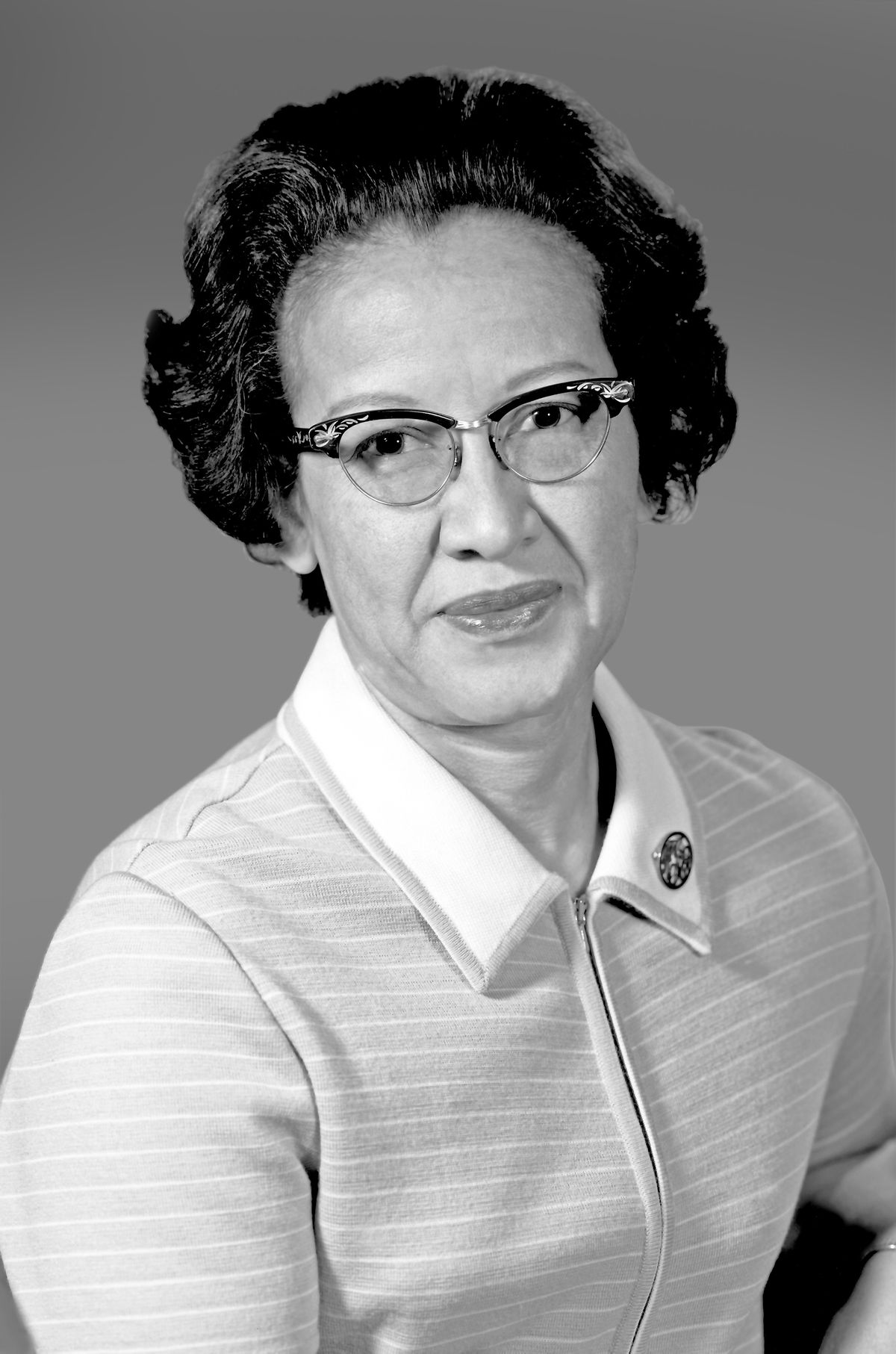 Born in Sulfur Springs, West Virginia, on August 26, 1918, Johnson showed significant mathematical capabilities at a very young age. Her curious mind helped move her several grades ahead, and by 13, she was attending high school at West Virginia State College, partly because public schooling was not offered for African Americans past 8th grade. At 18, she enrolled in college itself. Johnson graduated with degrees in mathematics and French, with highest honors, in 1937 and went on to teach math at a black public school in Marion, Virginia.
When West Virginia decided to begin integrating schools in 1939, West Virginia State's president John Davis, selected Johnson and two other men to be offered graduate spots at the school's flagship school - West Virginia University. She became the first African-American woman to attend graduate school at West Virginia University. So, Johnson left her teaching job and enrolled in the school's graduate math program. Shortly after, she decided to leave the program and started a family with James Goble, her first husband.
After hearing of open positions at the all-black West Area Computing section at the National Advisory Committee for Aeronautics (NACA's) Langley laboratory, James and Katherine packed up their family and moved to Newport News, West Virginia. Katherine began working at Langley in the summer of 1953.
After two weeks in office, Katherine's position became permanent when she was assigned a project in the Maneuver Loads Branch of the Flight Research Division. She would then spend the next four years analyzing data from flight tests and investigating a plane crash caused by wave turbulence. However, as she was wrapping up her work in December 1959, her husband died of cancer. Johnson remarried James Johnson in 1959 and was married for sixty years until his death in 2019.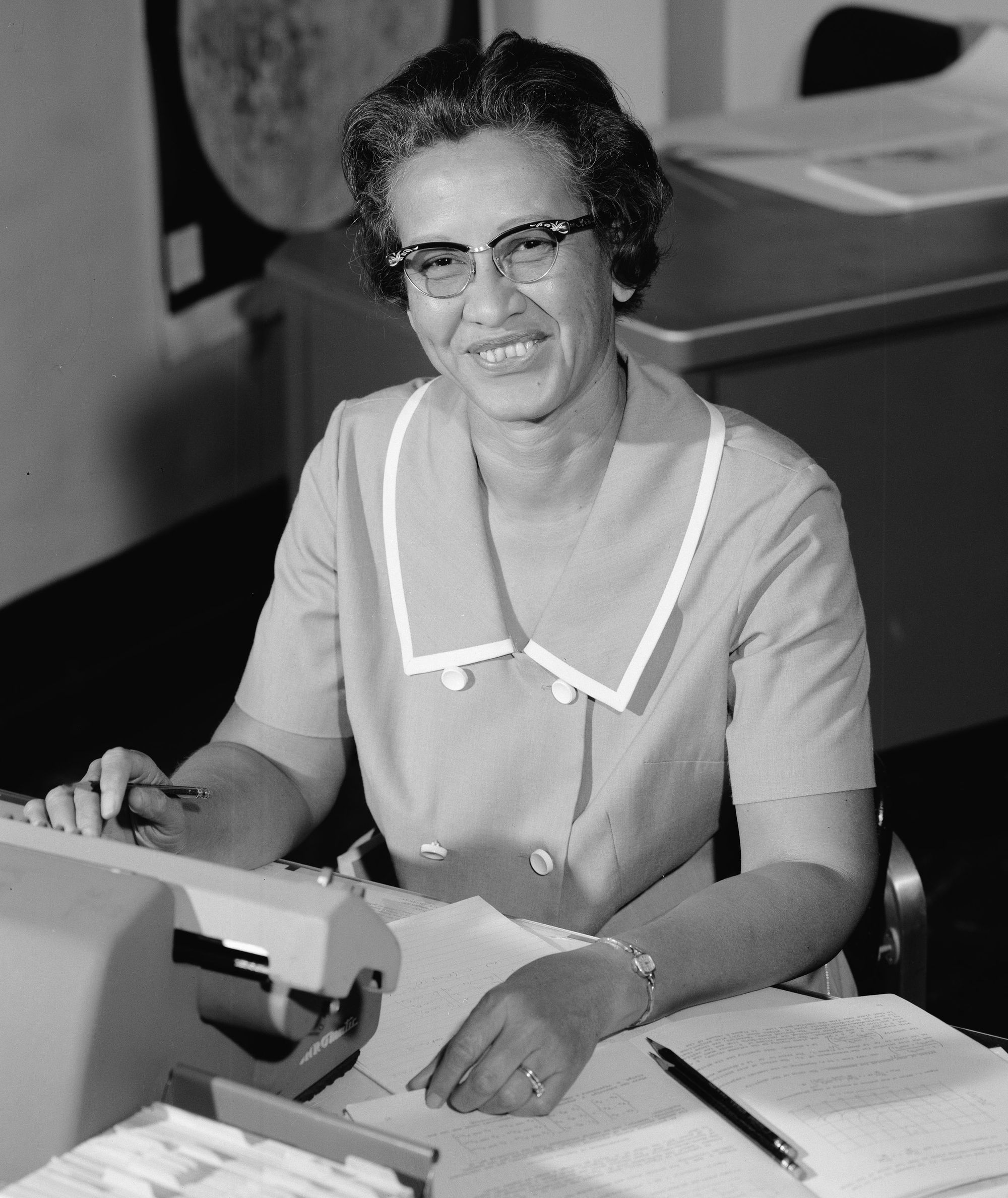 In 1957, Johnson provided some of the mathematical calculations for the 1958 document notes on space technology. This contained lectures given by engineers in the Flight Research Decision (FRD) and the Pilotless Aircraft Research Division (PARD). These engineers were essential to the Space Task Group, the NACA's first official thrust into space travel, where Johnson "came along with the program." Later that year, NACA became NASA.
From 1958 until her retirement, Johnson worked as an aerospace technologist. Johnson made leeway in many different projects, including performing trajectory analysis for Alan Shepard's May 1961 mission, Freedom 7, America's first human space flight, and the launch window for the 1961 Mercury mission. Then, in 1960, Johnson co-authored Determination of Azimuth Angle at Burnout for Placing a Satellite Over a Selected Earth Position; a report describing the equations needed for orbital spaceflight where the landing position of the spacecraft is specified. This was the first time a woman in the Flight Research Division was given author credit for research.
In 1962, NASA prepared for the orbital mission of John Glenn. NASA began using electronic computers, tracking stations around the work to computers in Washington, Cape Canaveral, and Bermuda. These computers were equipped with specific orbital equations to control the trajectory of the capsule in the mission from liftoff to splashdown. Before the flight, Glenn asked to "get the girl," aka Johnson, to run the numbers. Glenn said he had refused to fly unless the calculations were verified by Johnson. So, Johnson ran the same numbers through the equations that had been programmed into the computer by hand on her desktop calculating machine. The mission was a success and marked a turning point in the competition of the 'space race.'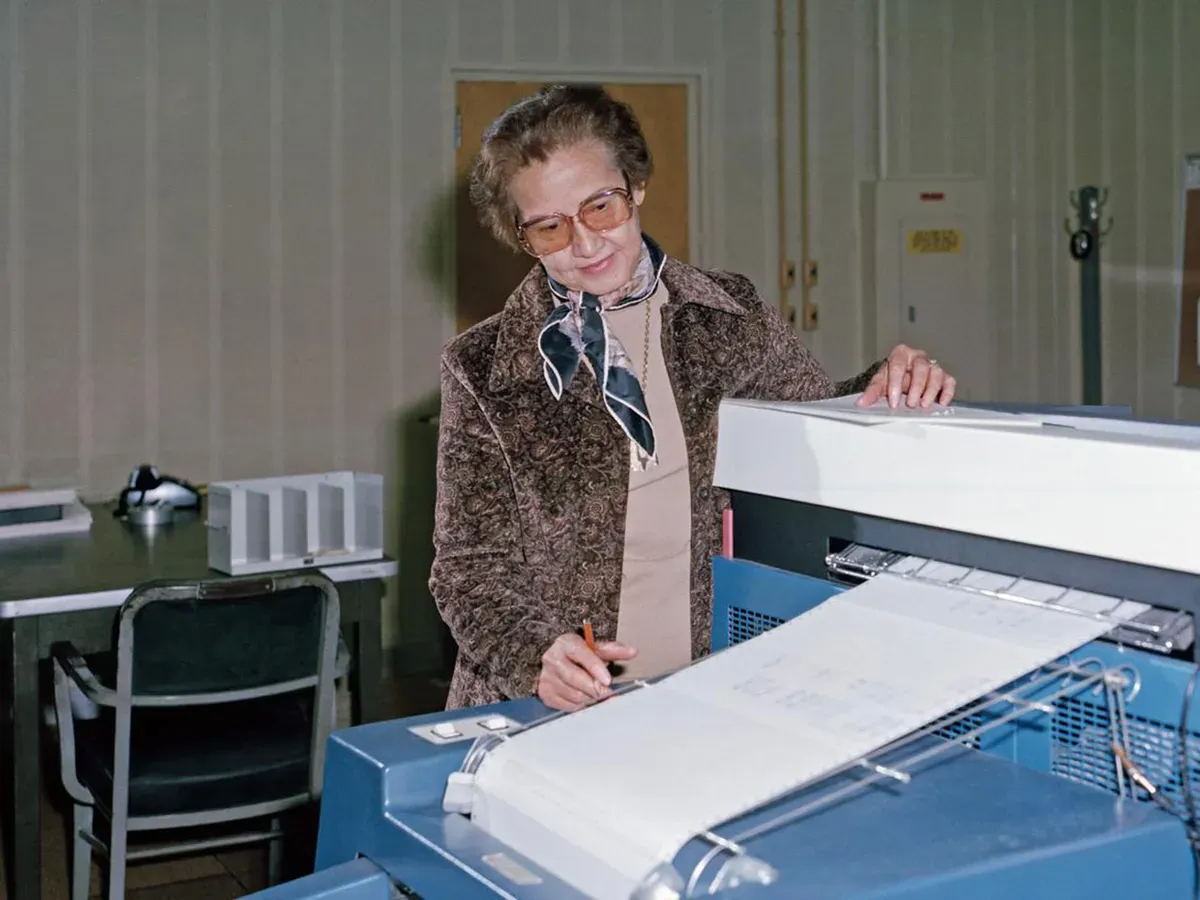 Johnson had other achievements at NASA, including calculating the trajectory for the 1969 Apollo 11 flight to the Moon and the Apollo 13 moon mission. However, when asked about her greatest contributions to space, Johnson would say syncing Project Apollo's Lunar Module with the lunar-orbiting Command and Service Module. She also worked on the Space Shuttle and the Earth Resources Technology Satellite (Landsat) and authored/ co-authored 26 research reports. After 33 years of contributions, she retired in 1986. President Barack Obama awarded Johnson the Presidential Medal of Freedom in 2015. The College of William and Mary awarded her an honorary doctorate on May 12, 2018. Two NASA facilities were also named in her honor.
In 2018, a STEM scholarship and a life-size campus statue were established in Johnson's honor. Mattel announced a Johnson-inspired Barbie doll that came with a NASA badge. Johnson also became one of the members of the Government executive's Government Hall of Fame in 2019. On November 6, 2020, the ÑuSat 15 or "Katherine," COSPAR 2020-079G was launched into space. In February 2021, the Cygnus NG-15 spacecraft to supply the International Space Station was named the SS Katherine Johnson in her honor. Johnson has also received a wide variety of awards, including the NASA Langley Research Center Special Achievement award, an outstanding alumnus of the year, the NCWIT Pioneer in Tech Award, the Silver Snoopy Award, and so many more. Johnson was also inducted into the National Women's Hall of Fame in 2019. Johnson passed away on February 24, 2020, of natural causes.